SCOPE
plac
The conference series "Annual Meetings in Conservation Genetics" was launched in 2015 with the aim to build a platform that helps bridging the gap between modern genetic/genomic research and applied nature and species conservation. While the general discrepancy between modern molecular technologies and their applications in conservation is a long-known problem, this gap is becoming even larger in the current era of rapid progress in genomics.
The conference serves as a platform for researchers and conservation practitioners interested in applying modern genetic and genomic tools to conservation. We will have different presentation and workshop sessions on diverse topics such as environmental DNA (eDNA), molecular wildlife forensics and landscape genetics, as well as policy, society & outreach (see sessions). Preference will be given – but is not limited – to presentations that have an explicit focus on applied conservation aspects.
The meeting is intended for scientists and practitioners in the fields of conservation genetics, ecological genomics, and related fields, but also for those researchers, students, conservationists and environmental managers, who are interested in learning and/or applying conservation genetics & genomics themselves or want to come into contact with experts from these disciplines.
place
---
place
VENUE
Frankfurt am Main (Germany) is a vibrant city in the heart of Europe, which can easily be reached by public transport. We would like to encourage attendants to travel by train to keep your and the conference's ecological footprint small. Just show us your train ticket upon registration and we will have a small extra gift for you 😉
The meeting takes place at the Senckenberg Research Institute and Natural History Museum, one of Germany's largest institutions focusing on biodiversity research.
Get there
By public transport:
After the arrival at Frankfurt Hauptbahnhof (central train station), travel with the tram line U4 and exit at Bockenheimer Warte (Senckenbergmuseum). Follow the signs for the exit to Senckenberg Museum.
By car:
We recommend traveling with public transport for environmental reasons and because parking space is very limited. There is paid parking in a parking garage available at Adalbertstraße 10, which is 10 min walk from the venue.
plac
Street address
Senckenberg Forschungsinstitut und Naturmuseum Frankfurt
Senckenberganlage 25
60325 Frankfurt am Main
Germany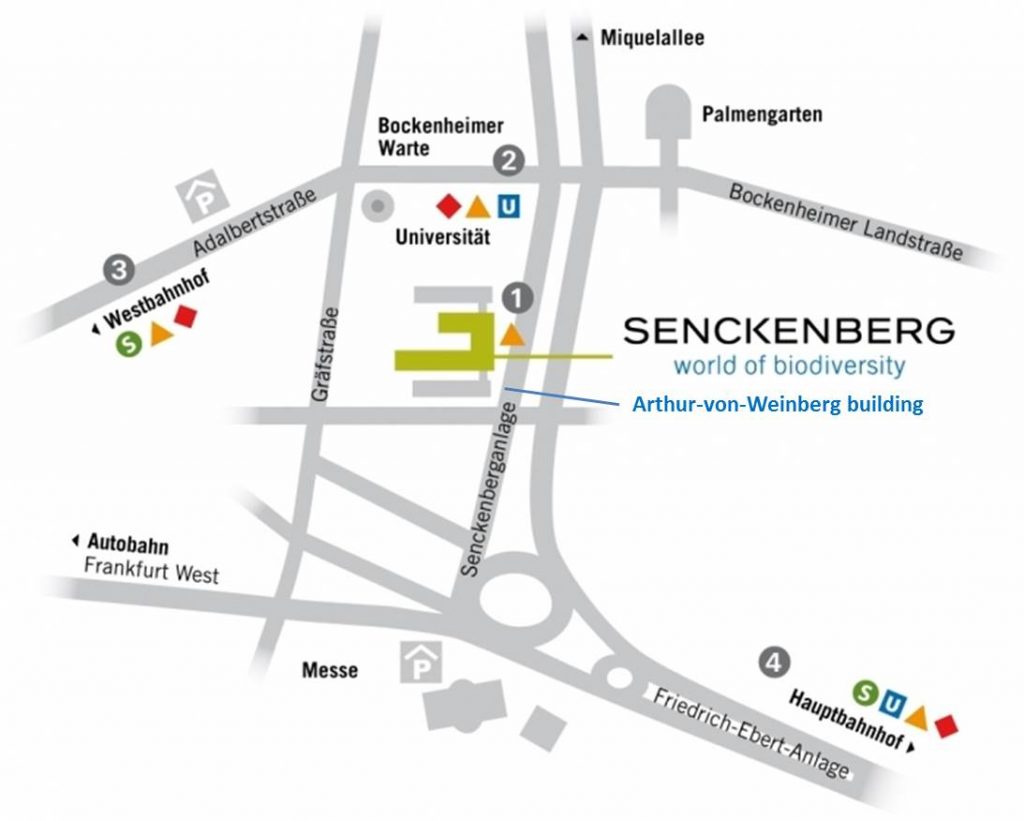 plac
See sights
Frankfurt am Main has a lot to experience and discover. For information on sightseeing, accommodation and services, click here. Additionally, find a list with accommodation options near the venue here.
plac
Go out
Being located in the hip Bockenheim quarter of Frankfurt, there are several bars and restaurants in the vicinity of the Senckenberg Museum. While we will have joint dinners at the conference venue, we encourage people to explore the small bistros, restaurants and bars found, e.g., on the Leipzigerstraße, just a few minutes walk from the museum for the lunch breaks.
plac
plac
PROGRAM
For details on keynote speakers, schedule and session details, click here.
plac